Reverend Michael D. Thompson was born to Christian parents, C.D. and Vera B. Thompson, in Monroeville, Alabama. He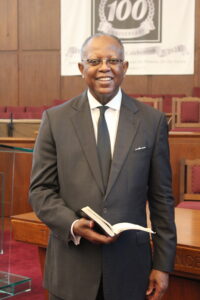 was raised as the eldest of four children in Washington, DC and suburban Maryland. He lives with his wife, Vera L. Thompson, in Mitchellville, Maryland and is the father of four adult children Erika, David, Keturah and India.
Reverend Thompson, who likes to be referred to as Minister Mike or Pastor Mike, has been an active member of Bethesda Baptist Church since he was a young child. He distinctly remembers, during a Baptist Training Union class, accepting Jesus in his heart at the tender age of 7 years old, and was baptized in 1966. While growing in the Lord and in Bethesda he served the Lord as a Sunday School student, sang in the choir, served as a Boy Scout Leader, and taught Sunday School classes for boys and for men.
Pastor Mike has stated that as a young adult, during the ages of 22 to 28 years old, experiences of actively defending his faith and participating in several dynamic home Bible Studies led to a newfound boldness that had not existed before. This boldness led him into actively engaging in and developing youth ministry for over a decade (1985-1997) at Mt. Nebo Baptist Church in Nashville, TN and at his home church, Bethesda Baptist Church in the District of Columbia. In this role, he established parent and adult led Youth Advisory Councils and organized a variety of activities and experiences for youth, inclusive of life education workshops, recreational activities, spiritual retreats and summer volunteer and job opportunities. Also, during this period, Pastor Mike taught Youth and Young Adult Bible Study and Sunday School, as well as served as Director of Vacation Bible School.
During the period of 1996-2017, Pastor Mike was ordained as a Deacon in Bethesda and served in this role under Pastor A. Michael Black, Rev. Vernon Lattimore, and Pastor Gregory Williams, all from whom he received mentoring, guidance, and key responsibilities such as chairing Men's Retreat Planning Committees and the Deacon/Deaconess Leadership Retreat and serving as Sunday School Superintendent. During this period, after having previously ignored it for about 15 years, Pastor Mike acknowledged and shared that he felt "called" to preach and was encouraged and mentored by Pastor Michael Palmer, who permitted him to preach his initial/trial sermon in June 2017, and thereafter licensed him as a Minister to preach the gospel, periodically calling upon him to teach the Thursday Bible Study and visit the sick and shut in.
Pastor Palmer's departure in August 2017, resulted in Pastor Mike's acceptance of the role of Senior Associate Minister of Bethesda in October 2017. In this role, he assumed spiritual leadership and most of the responsibilities usually reserved for the Pastor, including mentoring and guiding Minister Chasten Payne, as Youth Minister. Pastor Mike was formally ordained as Reverend Michael D. Thompson, a Preacher of the gospel, by Reverend Ken Burge, Pastor of Colmar Manor Bible Church on September 29, 2018.
Pastor Mike obtained a secular education in the DC Public Schools, a Bachelor's Degree in Economics from Lafayette College and a Master's Degree in Public Administration as well as a Master's Degree in Business Administration from Howard University, which prepared him to serve well in various senior leadership and executive positions for a number of years, culminating at Providence Hospital. He is currently serving as a Field Organizer/Ministry Contractor in the Church Ministry Division of the Billy Graham Evangelistic Association and is the Executive Board Chairperson of the Child Evangelism Fellowship of the DC Metro Area.
Having been first counseled approximately 20 years earlier by Pastor John D. Bussey to start taking classes at Washington Bible College (WBC), Pastor Mike enrolled in and completed WBC's Adult Education Program. He received a two-year Executive Leadership Certificate from the St. Aquinas School of Theology at Washington University in St. Louis, MO., and is currently pursuing a Master's degree in Christian Education from Dallas Theological Seminary.
Reverend Thompson was called as the sixth Pastor of Bethesda Baptist Church in Spring 2021. He is profoundly serious about the gospel of Christ and his life verse is "I am crucified with Christ: nevertheless, I live; yet not I, but Christ lives in me: and the life which I now live in the flesh I live by the faith of the Son of God, who loved me, and gave himself for me." Galatians 2:20. Most notably, Pastor Mike is a man who loves God and the people of God, "not willing that any should perish, but that all should come to repentance."
.