Rev. Michael W. Palmer, Sr. is the gifted and anointed pastor of Bethesda Baptist Church of Washington, DC. As the fifth pastor in the church's history of nearly 100 years, Rev. Palmer has an engaging style of preaching and teaching that is biblically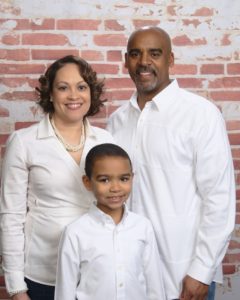 accurate and socially relevant. He is a courageous and visionary leader who is leading change in both the church and the community. Under his leadership, Bethesda has enhanced the Sunday morning Children's Worship, restructured and revitalized the Men's Ministry, and created the I Am What I Am (IAWIA) Young Adult Service which is designed to address the concerns of our young adult community. Rev. Palmer also instituted a weekly prayer call every Monday morning at 6:00 am.
With a heart for improving and embracing the surrounding community, Rev. Palmer has established personal and business relationships in Ivy City and Trinidad. His efforts have led to a stronger bond between the church and the community. Bethesda has also experienced an increase in new members living in the immediate community. Rev. Palmer's community involvement includes serving on the Boards of Directors of United Way, Big Brothers/Big Sisters, Good Samaritan Hospice, and the Elijah Cummings Youth Program (ECYP). He also served as Chairman of the United Way Minority Leadership Enhancement Program Committee and is currently a member of the Board of Directors at Liberty Christian School.
Rev. Palmer served in the United States Army as a Military Police Officer and was recognized as the Noncommissioned Officer (NCO) of the Year on two occasions. Upon being honorably discharged, Rev. Palmer continued serving in law enforcement and corrections until God called him to serve in the gospel ministry. In October of 2001, he was called to serve as the Pastor of the First Baptist Church of Hollins in Roanoke, Virginia where he ministered until God called him to serve as the Pastor of New Friendship Baptist Church in Baltimore, Maryland in October of 2004. In November of 2014, he was called to serve as the Pastor of Bethesda Baptist Church.
Rev. Palmer received his Bachelor of Science Degree in Organizational Management and Development from Bluefield College and earned his Master of Divinity Degree from the School of Theology at Virginia Union University. He is currently a doctoral student at Wesley Theological Seminary.
Rev. Palmer is married to the former Lisa M. Jones of Philadelphia and they are the blessed parents of one child, Michael, Jr.
His favorite Scripture is Matthew 5:16, "Let your light so shine before men, that they may see your good works, and glorify your Father which is in heaven."
Pastor Palmer's personal interests include watching movies, coaching his son's baseball team and playing as much golf as possible.
.